Matcha granola is a scrumptious mixture of golden clusters of oats, toasted coconut pieces, raw almonds and dried cranberries. Deliciously sweetened by pure maple syrup and balanced with the earthiness and umami of matcha.   
Crunchy Matcha Granola Recipe
This is a perfect recipe for those who are looking for a healthy alternative to your traditional cereal breakfast. We love the versatility of granola because you can eat it for breakfast, dessert or even as a snack on the go. Making your own granola mix is not only affordable but super fun and simple to do.  Your wallet will not feel the pinch, but your tummy will be contented! 
Generally, you have complete control of what goes into your granola – you can add your favourite nuts, dried fruits or even chocolate chips if you desire.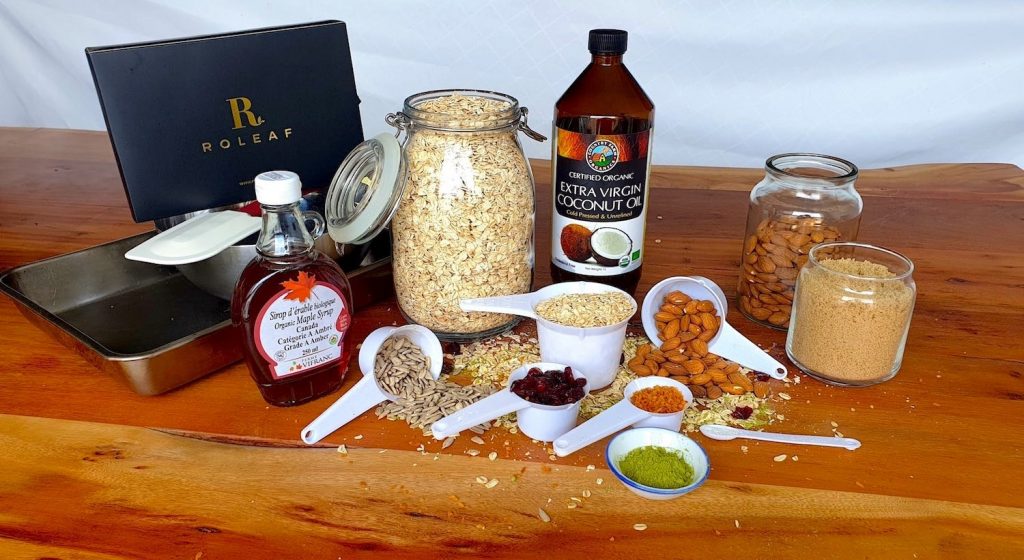 Origin of Granola
For those who have yet to experience the delectable taste of Granola, it is indeed a must-try. Generally, granola consists of a mixture of rolled oats, nuts, dried fruits and sometimes confectionary. A type of oil is then added to the mixture and baked together until golden brown. It can be eaten on its own, but is infinitely inviting on top of desserts or accompanied with Greek yoghurt, fresh fruits or honey!
Before Granola was invented, grains like oats were usually eaten cooked. In fact, eating it cold was extremely dry, unpleasant and almost unpalatable. It was not until a man by the name of James Caleb Jackson who experimented with baking grains came up with a cereal and named it 'granula'. Subsequently, John Harvey Kellogg (does his name ring a bell?) also came up with another similar cereal, but named it granola after facing legal issues with using the term granula. In brief, that was how Granola was birthed.
The best part of making granola is the freedom to choose your ingredients. If you are allergic to nuts, alternatively, you can replace them with seeds or dried fruits. Nonetheless, remember to have fun mixing your own granola.
You can add the matcha powder after baking the granola. If you mix it after baking, it may give an unpleasant mouthfeel of eating powder. However, if you find that there isn't enough matcha flavor after baking, you can add more matcha powder, but mix it well to reduce the powdery texture.  
Dry Ingredients
3 cups of rolled oats
1 cup of nuts (we used almonds)
1/2 cup of seeds (we used sunflower seeds)
1/2 cup of toasted coconut pieces or coconut flakes
1/2 cup of dried berries (we used cranberries)
1/2 tsp of sea-salt (or 1/4 tsp of table-salt)
Wet Ingredients
1/4 cup of coconut oil
2.5 tbsp of Matcha
1 tsp of vanilla extract (optional) 
3 tbsp of brown sugar (optional)
Step by Step Instructions
Step 1
Firstly, mix the oats, nuts, seeds and salt together in a big bowl and set aside. Do not add the dried fruit and toasted coconut yet.
Step 2
Secondly, mix the coconut oil and maple syrup with the matcha in a smaller bowl until incorporated. Additionally, you can also add vanilla extract and brown sugar.
Step 3
Drizzle the wet mixture over the dry ingredients. Mix well until well coated.
Step 4
Spread the mixture on a baking sheet and bake for 1 hour at 150 degrees.
Step 5
Take the mixture out of the oven and mix with the dried fruits and toasted coconut pieces. Wait until cool and dig into your matcha granola!
How do you prefer to eat your granola? Comment down below and share with us your tips and stand a chance to win some goodies when our next recipe blogpost is up.